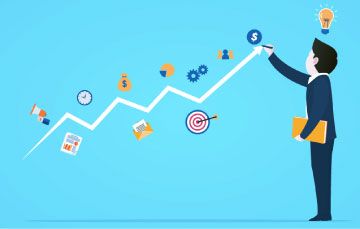 The Importance of a Strategy for Growth

It's the beginning of a new year and time for new goals. The times are ripe for potential growth even as some brands struggle to remain relevant. There may be an underlining fear that the current period of growth since the Great Recession will stall. No matter what, be prepared to insure growth and success.

A business without a strategy for growth won't be able to direct their employees or other business assets to reach objectives. A lack of objectives is a potential downfall of any business, regardless of its size. To survive and move ahead, set objectives and select a growth strategy that will keep your business lean, economizing on operating and one-time costs, and retaining strong profit margins. Rather than foregoing a plan for growth, build one that will keep your business financially viable, maintain your competitive advantage, and drive your business to fulfill objectives.  
 
Common Roadblocks to Growth
Before determining the best strategy for growth for your business in 2020, understand the common challenges that businesses face which can impede their growth:
Increased competition
Higher costs for raw materials
Higher personnel costs
Facility and equipment upgrades
Unpredictable market changes
Strength of the dollar in international markets
Outdated business model or less profitable strategy
Lack of technology resources
Lack of skilled labor
Without addressing these issues, undertaking a new growth strategy may be setting up your business for failure. When planning your strategy, incorporate measures that will address these concerns relative to your organization.

Selecting a Strategy for Growth

There are a variety of strategies that can result in growth. A plan that provides greater sales or higher profit margins will allow you to perform better this year. Most small companies know they need to do one or more of the following to achieve either of these outcomes:
More aggressive marketing
More competitive pricing
Expansion into new markets
Expansion into new products
Acquisition of competitors
Reduction of operating expenses
Particular growth plans are often better suited than others depending on your specific business. Choosing the wrong strategy can have a negative impact on your business. Don't endanger your financial situation, use unscrupulous business practices to outperform the competition, or violate any government rules or laws. Consider how each of these strategies could benefit your business and select the one which would be the most advantageous at this time.
 
Mapping Out a Growth Plan for Your Business

Let's take this opportunity to explain how one strategy for growth could be developed into a seamless plan for 2020 – expansion into new markets. This would involve taking your firm's existing products or services and modifying them or expanding them to penetrate new markets. It may be necessary to economize on costs in order to generate profits in new markets, which may include potential buyers who expect to pay less for goods or services that your company has successfully marketed elsewhere. You cannot fully estimate what possible market shares could be captured in new areas, but you can study the potential revenue that would justify any type of plan.
 
Developing and Implementing a Growth Plan

It's important to understand that a business must align its current business practices with any new growth strategy. Unless you are adding more facilities, personnel, and equipment, your existing resources will have to ramp up product or service output to meet the demands of your growth strategy. Otherwise, your company will enter new markets or add new products, or whatever, and fail to deliver, which means the overall growth strategy will fail. To successfully expand, identify how to augment operations without having your costs exceed the potential revenue.

Using our market penetration growth strategy as an example, here are the steps that would be involved in implementation:
Identifying the potential market.
Developing products or services to fit the market.
Setting up suppliers, production facilities, sales, and distribution channels in this new supply chain.
Using marketing tactics to increase sales.
Troubleshooting problems with efficiency and product or service quality/value/price.
Improving products or services.
Increasing efficiencies within your firm.
Continuing to deliver top quality and competitive products over the year.
Other growth strategies would involve similar steps for implementation.
Potential Questions for Implementation
Regardless of which type of growth strategy you choose, be sure to map out each stage of the plan. Without doing this, your strategy will fall short. Attention to detail is important. Use these questions to be sure you have addressed all areas for a successful launch.
Who is responsible for each aspect of the plan?
How long will it take to plan and implement each stage?
What additional funding and resources will be needed to finance the expansion?
Where will you secure those resources?
What are potential threats from inside and outside the firm that could thwart the plan's implementation?
What benchmarks will you use to measure progress towards implementation of the plan?
How will you determine if the plan is not working?
How will you adjust the strategy if it's not working?
Managing the Implementation of a Growth Strategy

It seems like a no-brainer that businesses would always be searching for new ways to grow. However, when there is a period of high demand, a business owner may feel overwhelmed with what is needed to satisfy any new or existing customers. To be aggressive and expand, you will need additional resources and a plan for how they will be organized. Otherwise, you could waste  resources and fail to generate the growth you are looking for.

When businesses plan and implement a growth strategy successfully, involve everyone and every function of the business in the process. Incorporate the following areas to be sure your plan for growth will be successful.
Planned smart growth. Unleash your strategy in stages and don't let growth outpace your organizational capacity.
Performance targets for business divisions and employees. Communicate objectives so everyone knows what is expected of them. Give them opportunities to ask questions throughout the entire process.
Accountability. Report out on milestones during each stage of growth.  
Flexible business strategy. Revisit the business strategy in each stage. Adjust your strategy to meet milestones within each stage.
Diversification. Establish long-term strength in your company by undertaking new avenues for growth.
An effective plan for growth will generate additional revenue for your company and retain talented employees because your organization is agile, competitive, and sustainable. Each plan for growth comes with its own challenges. However, undertaking it step-by-step, and solving each challenge along the way will ensure success.

For more information on successful growth strategies, please contact Ken Tays at Minuteman Press: ken@mmpnewark.com.