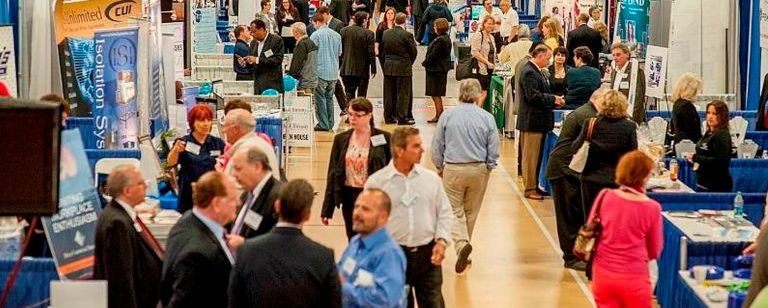 Put into action strategies that deliver the exposure and leads you are looking for.
The peak of the trade show, job fair and conference season is fast approaching. If you are exhibiting, you'll be making a considerable investment in fees, displays, giveaways and your time. Strategically planning for this event can help you get the most out of your trade show experience and get you the exposure and leads that you are looking for.
Set goals and budget. Be clear on what you are looking to achieve. Are you looking for brand awareness, leads, appointments, strategic partners? Build your plan to fulfill your goals.
Do your research. Before you invest in a show, attend a couple in your industry. You'll get ideas of what your competitors are doing and what level of participation is best for your business. Select trade shows or conferences where your prospects are most likely to attend. Register early so you can scope out a location for your display that will generate good traffic.
Make a good first impression. Your presence doesn't need to be big but make it stand out. Take time to plan your visual presentation of your brand so anyone walking by had a positive impression. Consider every detail including space for interacting with visitors, collateral, giveaways, etc.
Promote your participation. Use social media to let your audience know that you are participating in a job fair, trade show or conference and invite them to stop by and visit. Leverage any lists of prospects of customers to promote your participation through email or direct mail. Invite them to your space.
Spend time wisely. If your main objective is to have conversations with prospects or give product demos, utilize your time doing just that. Use technology to increase engagement with attendees. For example, many conferences have scannable name tags and software to collect and save contact information.
Promote your brand. You want people to remember you after they walk away. Give out promotional items that will be useful during the show or something that will be used and seen for a long time to come. Select items that will lure people to come to your space.
Entice attendees to visit your space. Run a demonstration and make it interactive if possible. Hold a drawing and offer a prize that in some way complements your business and pulls attendees into your booth. Use their visit to your booth to engage with them.
You're not done when the event is over. Evaluate the traffic to your space. Did you meet your target for new contacts and leads? Follow-up with leads immediately. The longer you wait the longer they have to forget who you are and what you said.
No need to go big and extravagant if it doesn't have a purpose. The biggest job fair, trade show and conference success stories come from the organizations with the most thought out marketing campaign.