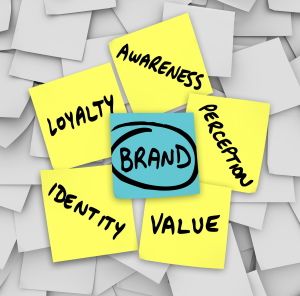 Branding goes way beyond just a logo or graphic element. When establishing or evaluating your brand, be sure to include everything about the entire customer experience that you deliver - your logo, website, social media experiences, product offerings, the way you answer the phone, customer service, etc.
Your brand is everything that customers expect from your company. It is the sum total of your customers' perceptions, notions and experience. It is the face, personality and the values embraced by your business.
Businesses establish themselves and over time draw in a customer base. This happens because they effectively stand out to their target audience with specific experiences that those customers like. People associate that business with a certain set of encounters.
Because branding encompasses so much of what a business does, it is important to establish a consistent positive brand experience. It's worth investing in your brand because a strong brand will lead to business growth. Here's how:
Branding Improves Recognition
A brand is the identity of your business. It includes every interaction with customers: products and services, customer service, as well the graphical representation, and promotions that customers see. All of these define your business's identity. A strong brand identity enables customers to recognize your brand and associate it with your business.
As you build your brand, have a graphical representation that people can associate with your business. It must be consistent throughout all outward facing promotions including your website, social media, email marketing, print marketing, etc. If your business is visited by customers, you can apply your brand to your physical location. Use branded apparel for customer facing employees.
Consistency in brand appearance goes a long way toward recognition and recall. Your business will come to mind more easily when someone is looking for the types of products or services you offer.
Branding Lets You Stand Out from the Competition
Your brand sets you apart from other businesses like yours. Everything you do from product offerings to customer service, to your website, is what people associate with your business.  When people notice your product or your style, they will think of your business before your competitor's. This gives you the edge by making your business more recognizable and staying top of mind.
Differentiate yourself from your competition. When the competition does something that makes them stand out more, then they may get more publicity, or buzz. By effectively using your brand, you can keep your business in the spotlight to draw and maintain the attention of others.
Branding Builds Trust & Loyalty
When you create a strong brand, you begin to gain customers that remain loyal to you. The more your audience gets to know your business, the more they trust you and the more loyal they become. This means that they believe in the product that you sell and want to support you.
Establishing trust helps you gain customers and shows them that you will meet their needs and expectations. Think of it like this: have you ever watched a movie just because you know the director and loved one of their other movies? This is an example of brand trust: you trust the director will make another good movie, so you'll watch it.
This happens in business as well. Customers trust the product that you've sold them and they want to continue supporting your business. As you offer new products or services, your customers will trust your business and purchase those as well. They'll share their trust of you and your business with others.
Branding Increases Business Value
This may be the biggest reason why businesses invest in their brand: to build up the business's financial value. As you create a strong, firmly established brand, the overall value of your business increases which makes your business more appealing to investors.
Keep in mind, however, that the value of your business needs to be maintained. Continually investing in your brand will help you maintain that value. Lapses in brand management can be detrimental and will have a negative effect on the value of your business.
Branding Inspires Employees
When an employee works for a strongly branded company, they will be more satisfied with their job and have a higher degree of pride in the work that they do. Working for a brand that is reputable and held in high regard makes working for that company more enjoyable and fulfilling. Integrating brand in the workplace helps employees feel more connected and have a sense of belonging.
As you create a brand for your company, you project a professional image to your customers. They notice that your business pays attention to its image, and it shows customers that you care about the fine details.
Branding Creates Repeat Customers
A strong brand experience generates repeat customers. You build the path for customers to become returning customers: creating a brand, standing out and building trust with them. This shows them that your business is serious, here to stay and will provide them the products that they are looking for.
Your customers know that they can trust your business and that they want your product. They will return to your business because you can meet their needs. Returning customers have a greater value overall than customers that only purchase once from you.
Not only that, but customers that you retain will want to refer your business to their friends. They will tell their friends about your business and encourage them to make purchases from you. This will help you to gain new customers while potentially turning them into returning customers.
Branding Generates Referrals
A positive impression among your customers means others are more likely to do business with you. There is a familiarity and assumed dependability of doing business with a trusted brand. For a well-established brand, word-of-mouth is a tried and true way to grow your business.
The most profitable companies, small and large have a single thing in common. They have established themselves as a leader in their particular industry by building a strong brand.
Conclusion
Some people overlook the power of branding in a business. After all, they think that businesses just do it to establish a name, but it goes far beyond that. Creating an effective brand allows your business to cultivate repeat customers, generate new business and grow much more than they would otherwise.