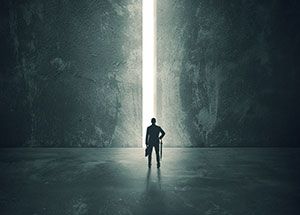 Hello Friends,
As we turned the calendar to April and spring started to fill the air, I couldn't help see how ironic this quarantine is for this time of year. The weather is warming up, people should be getting out, and more activity should be happening on streets and in our business districts. Yet, today the streets are empty, and the shops are closed as we try to slow the nasty spread of an invisible enemy.
It's time like these that test our will, inspire new ideas, and challenge our capabilities. At the beginning of this crisis, we were approached by a school to produce over 3,700 workbooks for their students so they could study at home until all their laptops could be sanitized and distributed. The quantity was large, but they also needed us to produce the books in just five days.  It took a herculean effort and a 24/7 operation, but this 4-person shop completed the mission on time.  It was the biggest project on the shortest time-frame this shop has ever seen.
While the size of the job and the tight production schedule were challenges for us, it was the importance of the project that really drove our desire to succeed.  Finishing on time meant that there would be no interruption of these children's education. 
In the grand scheme of things, would an inadvertent two-week break from learning have been that disruptive for these kids?  Probably not. But the school and Minuteman Press were committed to doing everything and anything we could to get the kids what they needed to continue learning. At times like this you can't just sit and watch the world go by. You have to be proactive, innovative and resilient to get what you have to done. 
We will all learn lessons from this crisis: some employees may learn that working at home isn't all that it's cracked up to be; some bosses may learn people can be productive from a remote location; and small business owners like you and me may have to learn how to fix our solid business after a one-of-a-kind national disaster. 
In every crisis there are challenges and opportunities. The challenge for small business owners is how to fix a great business that is totally wrecked by the economic effects of a virus.  Plenty of opportunities lie in the answer to that challenge.
At Minuteman Press Newark, we are here to partner with you to rebuild our local businesses.  To learn more about  the work we are doing to help our local businesses connect and reconnect with their customers and provide strategies to grow your business, call me at 973-624-6907 or email me at ken@mmpnewark.com.
.
Ken Tays
Owner
Minuteman Press Newark