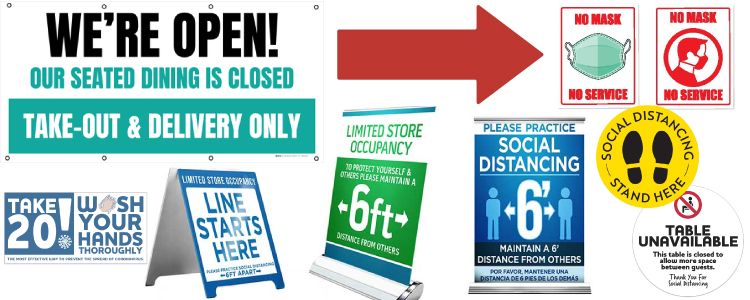 As businesses begin to open up, employers and business owners will need to come up with detailed plans to keep workers and customers safe. When it comes to operating your business during the pandemic, it's important to communicate with your customers inside and outside of your place of business.
Let people know you are open or to what extent you are open
Prominently display the rules for doing business. Set up signs at the entrance reminding customers to go home if they are feeling sick. Other important announcements — such as changes to your policies must also be displayed prominently.
Guide people through your place of business to maintain social distancing. In-store, have signs reminding people to keep their distance. Consider adding markers or decals on your floor, particularly near the checkout counter, so people know where to stand in line. 
Remind people what they need to do to stay healthy while in your facility by wearing face masks and by regularly washing their hands.
Here are a few examples of signs to use while operating during the pandemic
Let people outside your store know what's going on with your business with vinyl banners, feather banners, and sidewalk signs.
Inside or outside your business, remind customers what they need to do to protect themselves using pull-up banners and A-frame signs.
Use floor decals to direct customers and remind them to practice social distancing.
With signage around your business, remind employees and customers of best practices for preventing the spread of COVID-19.
Minuteman Press Newark has social distancing and opening signs, decals and banners in stock and ready for delivery. Custom banners, signs and decals are also available, printed in our store for quick turnaround with outstanding lasting quality. Click here for more information.