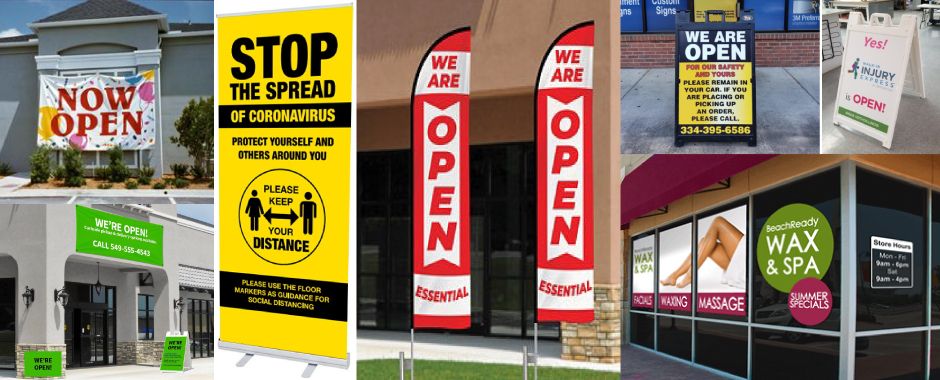 Signs and graphics play an essential role in communications as businesses operate during the COVID-19 pandemic. All types of banners help you communicate in a big way.
As businesses re-open, many will do so with strict social distancing rules in place. This will necessitate additional communication with customers, employees and visitors. Signs and graphics will play an essential role in such communications, and planning your signage strategy now will help you as you re-open for business. Consider these essential types of banners and signs to get your message across.
Vinyl Banners: Effective business marketing requires two things: impact and visibility. Draw the attention of anyone near and far with vinyl banners.
Feather Banners: Feather banners garner the attention of passers-by on foot and in vehicles to draw attention to your location.
Pull-Up Banners: Pull-up or retractable banners are easy to set-up and are hard to ignore.The double-sided graphics are impactful for any type of message.
Window Decals: Retail locations benefit from window graphics to clarify hours of operation, social distancing restrictions, as well as specials and sales.
A-Frame Signs: A-frame sign design allows easy setup, while maintaining stability in poor weather conditions. They are ideal to pull-in both pedestrian and roadside traffic. Studies show that A-frame signs increase foot traffic by at least 8.3%
During these constantly changing times, develop a communication strategy that is structured yet flexible, allowing you to switch out promotions and other communications regularly. Establish and revise your signage needs to keep your customers informed. 
Whether you are looking to bring old customers back or attract new ones, using banners of any type will draw attention to your business.