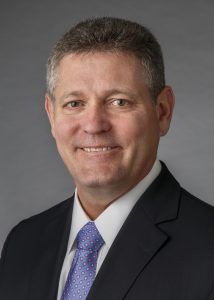 Meet Minuteman Press Newark Owner Ken Tays
Ken Tays began his career in the US Army serving in Europe, Korea, and the Unites States. Ken is a two-time combat veteran serving in the first Gulf War and in Bosnia. He has many distinguished military awards including 4 Army Commendation medals and 3 Army Achievement medals.
Since his time in the US Army, ken's career has been in business-to-business financial services. He worked for the Treasury Department, PricewaterhouseCoopers, Citi Bank, and Broadridge Consulting. About two years before becoming owner of Minuteman Press Newark, Mr. Tays founded Audit Risk and Regulatory Advisors.
Ken holds a Finance degree from Texas State University and a Master of Business Administration from Florida State University.
When Ken was consulting at Broadridge, he felt he was ready to break out of the financial services industry. He looked at franchising opportunities that leveraged his business-to-business experience. Consultancy, practice leadership and marketing were all important aspects of the financial services industry, just as they are in a commercial printing business. Ken has a passion for helping small businesses grow. He immediately saw Minuteman Press as a good fit for him.