Goodbye, Inbox. Hello, Mailbox.
Using direct mail helps your business cut through the clutter and actually reach your target audience. A solid direct mail marketing campaign features high-quality design, a personal touch, a strong call to action, and a targeted marketing approach. Direct mail:
Gets past the clutter of email. Your message is more likely seen because it is physically handled by the recipient.
Gives you the ability to personalize your message. Personalization increases response rate 50%.
Builds trust. Direct mail makes a more lasting impression and makes the message easier to recall.
Improves the quality of your website traffic. Over 60% of online searches are a result of print marketing campaigns including direct mail.
Is versatile with a wide variety of formats and options from postcards and brochures to magazines and catalogs.
Results can be measured without complicated analytics. Responses can be tracked with coupons or codes.
Is cost effective. While the cost to create and execute direct mail is higher than email, with the right message and call-to-action, the actual response rate is higher.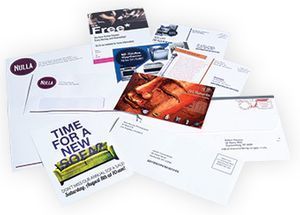 A properly run direct mail program with a strong call to action is a great way to advertise. Minuteman Press has the equipment and experience necessary to help your mailing project succeed. Whether you want to reach a precise group or a specific territory, we have the data resources to handle it. If you have a mailing list, we can incorporate it into a mailing piece for you. We use postal-approved software to cost-effectively mail your materials. And if you want to kick it up a notch, you can customize your direct mail pieces for each individual with variable data printing.
We can help with any type of direct mail campaign:
Postcards
Self Mailers
Letters
Catalogs
Every Door Direct Mail (EDDM)
Mail Merge
Full Addressing Capabilities
We will work with you to design, print, and deliver your direct mail campaigns with two goals in mind: to help you generate more leads and grow your business.
To get a quote or upload a file, please fill out the form.